Recently, Aron Qu Weifeng of Lai Weijue was shortlisted for the ESG Leader of the Year Award in the ESG China Awards hosted by the British Chamber of Commerce in Shanghai. This nomination is undoubtedly an affirmation of Aron's personal leadership and influence in the field of ESG, and will inspire him to lead Leverage to a higher standard of environmental, social responsibility and corporate governance in the future.
The winners of the 2022 ESG China Awards will be announced at a dinner in Shanghai on October 27. The dinner is one of the few occasions where business leaders, policymakers and opinion leaders gather to recognize and celebrate companies that have had a positive ESG impact in China. If you would like to reserve a seat, please scan the QR code in the image at the bottom of the article. Seats are limited, first come first served。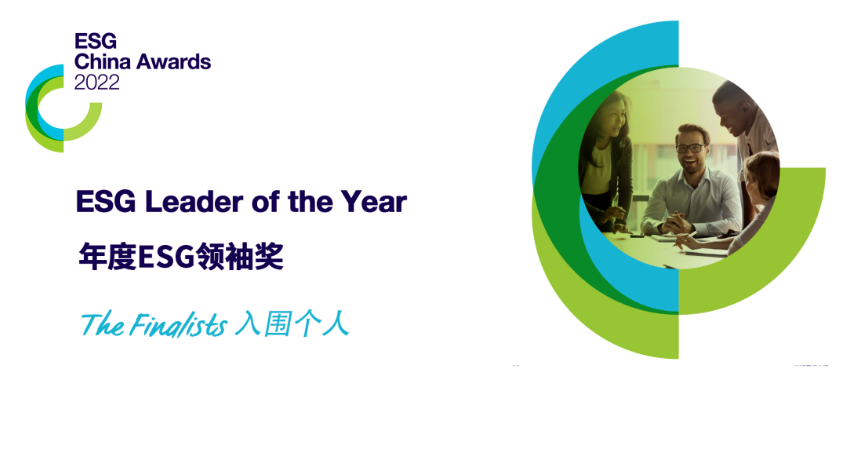 Corporate Large enterprise
Binbin Ju, CSR, ESG Director, Tianfeng Securities
Ms. Ju Binbin has been working as CSR Director and ESG Director of Tianfeng Securities Company Limited since 2016. Ms.Jubin is responsible for developing CSR system, coordinating key resources from government, social organizations, mainstream media and financial peers to promote the effective operation of poverty alleviation work, and is also responsible for the daily operation and management of Xinxin Charity Foundation. As the ESG Director of the company's ESG team, She has established the Tianfeng Securities Financial Responsibility System based on the principles of "financial strength, robust finance, green finance and inclusive finance" and "create, grow and share".
Stuart Mercier, Managing Partner & Country Head, Brookfield
Stuart Mercier is a Managing Director and Country Head for China, overseeing all of Brookfield's operations and institutional relationships. Mr. Mercier also has direct responsibility for Brookfield's Real Estate activities across Asia including business development, investment and portfolio management.
Mr. Mercier received a BA from Bishop's University and an MBA in Finance from the University of Hong Kong and London Business School, where he was the recipient of the Haitong Securities "New Generation of Leaders" scholarship. Mr. Mercier serves on the board of the Canada China Business Council and is a Global Governing Trustee and China Mainland National Chair of the Urban Land Institute.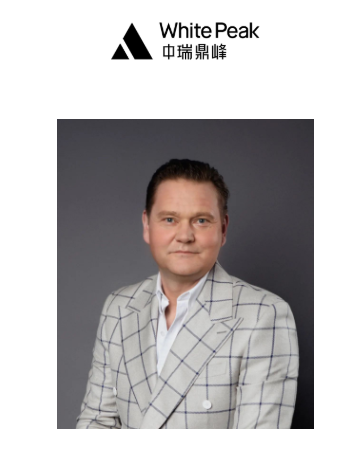 Jesper Jos Olsson, Group CEO, Founding Partner, White Peak
Jesper Jos Olsson, is the Group CEO and Founding Partner of White Peak, a key decision-maker and initiator of White Peak's business strategy, including ESG strategy. As one of the most important business strategies, Jesper has helped the company to bring in ESG concepts and design from the Swedish practices, especially the Hammarby Model that incorporates leveraging technologies, procedures and approaches throughout the project focusing on the eco-cycles of water, waste, and energy.
SME Small and Medium Enterprises
Linian Li, Country Manager, Modern Water
Linian Li is managing and developing Modern Water's business in China. She has double master degrees, MBA in Natural Resources Energy & Environment from University of Alberta and Grande Ecole from EDHEC Business School. An executive with more than ten years of management experience in sales, marketing, business development, project management, corporate strategy, ESG, P&L and general management in international companies. And a self-motivated strategic thinker with determination and effective leadership skills possess extensive real life experience in the business and social cultures of Asia, Europe and North America. Linian got Women Leadership Awards—Innovator of the Year in 2021.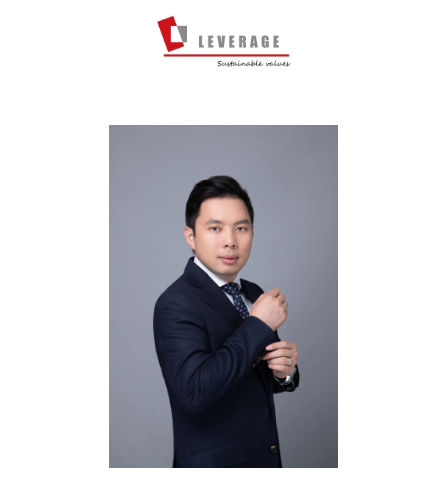 Aron Qu, Founder, CEO, Leverage
Aron Qu has more than 15 years' experience in the field of sustainable business. Aron has been engaged in the management of sustainable development projects such as compliance operation, social responsibility and carbon neutrality in international retailers, brand, and third-party organizations. In 2014, Aron established Leverage, an international third-party organization specializing in responsible supply chain management and led his team to gain recognition from many organizations, such as UNGC\UNEP\ILO\AWS\CNCA\CNAS, etc.
Aron is committed to working with more stakeholders to implement SDGs through my own practice and influence, and to promote the responsible and sustainable development of the supply chain.
ESG China Awards 2022 winners will be announced at the Gala Dinner on 27 October in Shanghai. The Gala Dinner is one of the few occasions where business leaders, decision-makers and opinion-formers meet to recognise and celebrate the businesses that have made a positive ESG impact in China. If you wish to book a seat, please scan the QR in the image below. Seats are limited and are available on a first-come-first-served basis.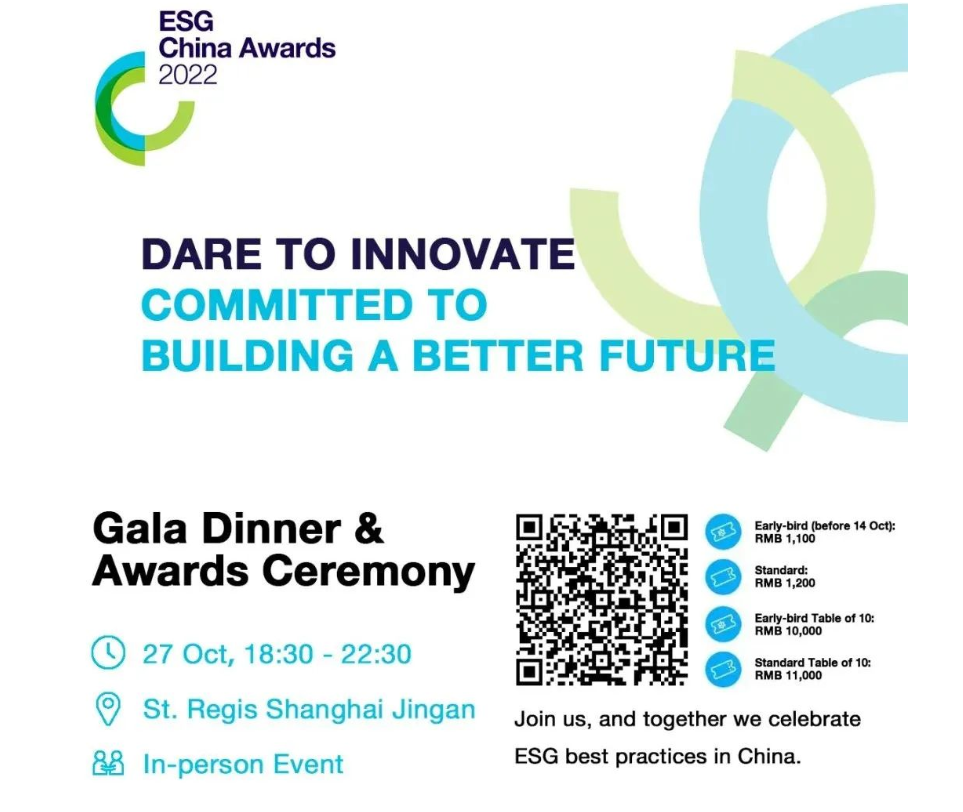 Leverage is a clean, transparent and responsible third-party supply chain management service company. Leverage is also a certification agency of China Certification and Accreditation Administration (CNCA-R-2020-707) and China National Accreditation Council for Conformity Assessment (CNAS IB 0605). Has been committed to promoting the sustainable development of enterprises and society. We can provide enterprises with ISO37301 compliance management system certification and other related services, such as ESG strategic consulting, ESG report preparation, ISO management system certification, organizational carbon accounting, etc. We hope to help enterprises implement compliance management, reduce various business risks, and improve corporate reputation and image through our services.
ISO Management System Certification | Service Certification | Product Certification | Product Inspection and Testing Service | Enterprise ESG Strategy Consulting | ESG Report Preparation | OCI Marine Plastic Recycling Certification | Carbon Verificaion for Enterprises | Carbon Footprint Verificaion for Product | Carbon Neutrality Project Customization
If you want to know more information, please contact us:
■ Shanghai :
Leverage Limited (Shanghai) Co., Ltd.
Address: Room 402, No 2. Building, No .1328, Hengnan Rd, Shanghai, China
Phone: + 86 21 64067720
Email: cs@leveragelimited.com

■ Hongkong :
Leverage Global Limited
Address: Room 1318-19, Hollywood Plaza, 610 Nathan Road, Mongkok, Kowloon, Hong Kong
Phone: + 852 9045 0526
Email: info@leveragelimited.com