UNIDO Shanghai Global Science and Technology Innovation Center strives to build a comprehensive innovation platform that integrates intellectual resources, international cooperation, industrial development, financial support, and public services to provide services for small and medium-sized enterprises' innovative research and development, enhance their independent innovation capabilities, and promote China's and sustainable development of the global economy.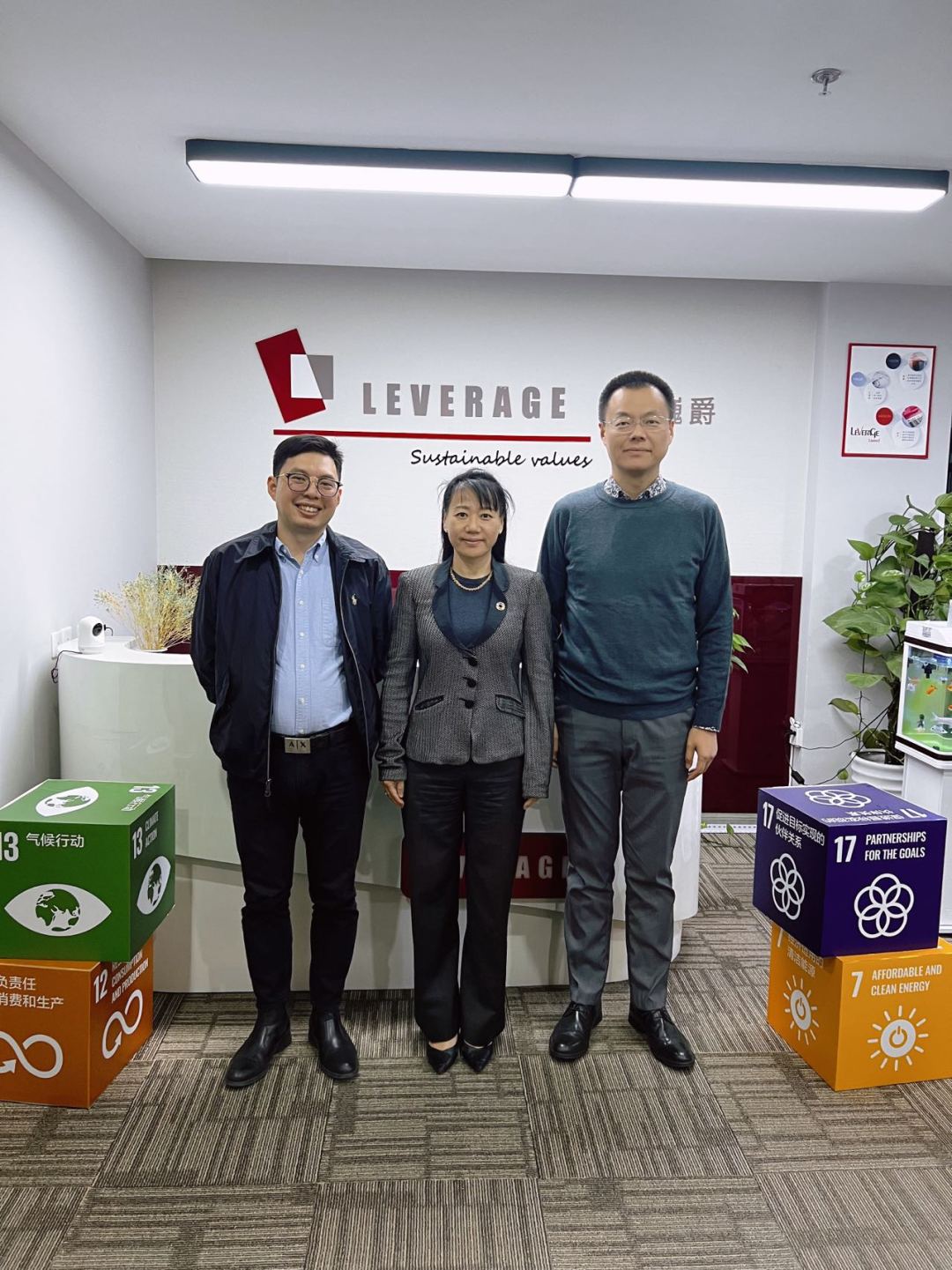 After the meeting, Mr. Qu Weifeng, general manager of Leverage, took a group photo with the visiting leaders. In the picture above, on the far right is Deputy Secretary-General Chen Bin, in the middle is Deputy Director Liu Jing, and on the far left is Mr. Qu Weifeng, General Manager of Leverage.
Leverage has rich experience in "dual carbon", ESG and sustainable development, related businesses are relatively mature in development, and have considerable advantages in technology, region, experience, influence and other aspects. In future cooperation, we will be able to make our due contributions to promoting the realization of the United Nations Sustainable Development Goals, helping enterprises to fulfill their social responsibilities and carry out compliant and legal green development.
Leverage's Key Projects
Carbon neutrality related services
Global climate change has become one of the most serious problems threatening human existence and social and economic development. Climate change is both an environmental issue and a development issue. On September 22, 2020, President Xi Jinping announced to the world at the United Nations General Assembly that China's efforts to tackle climate change will be greatly improved: striving to achieve "carbon peaking" by 2030; and striving to achieve "carbon neutrality" by 2060. In this environment, more and more companies are committing to "carbon neutrality" and "net zero" emissions. To achieve this goal, companies need to prioritize the reduction of greenhouse gas emissions in their operations, focusing on sustainable internal and supply management. energy consumption of the chain, reducing inevitable carbon emissions.
Leverage's professional team can use its rich experience to pass a series of standardized trainings to help companies master the scientific method of managing energy consumption and reduce carbon emissions; from corporate audits to independent certification and verification services, to help companies achieve carbon neutrality.
Carbon emission verification for Enterprises
Corporate carbon verification is the first step in implementing a carbon neutrality program, enabling companies to accurately assess and report their carbon emissions, identify sources of emissions, and identify areas for improvement.
Leverage can verify the carbon emissions of enterprises based on the ISO14064 international standard, and conduct scientific analysis to form a quantitative report on greenhouse gas (GHG) emissions and removals, and set stage goals that are more suitable for their own development, thereby improving corporate carbon emissions.
Product carbon footprint accounting
Leverage will verify the energy consumption, material consumption and emissions of products in all aspects of the life cycle based on ISO14067, PAS2050 and other standards.Through the calculation of the carbon footprint of the product, the carbon emission of the product in each link of the life cycle is confirmed, so as to formulate corresponding emission reduction plans and goals for the enterprise, thereby providing a basis for the management of the enterprise and the supply chain.
Carbon neutral solutions
After companies have quantified their carbon emissions, they need to turn their attention to how to reduce and offset carbon.Leverage will customize a series of carbon offset and carbon neutral strategies and management solutions for enterprises in accordance with the PAS 2060 carbon neutral certification specification, and provide organizations to choose suitable carbon offset projects.
Building on the existing ISO 14000 series and environmental standards such as PAS 2050, PAS 2060 proposes regulations that organizations must comply with to achieve and implement carbon neutrality through the quantification, reduction and offset of greenhouse gas emissions.
CDP Carbon Disclosure Questionnaire Coaching
The CDP questionnaires are divided into three categories: climate change, water security, and forests. The questionnaires provide a framework for companies to provide environmental information to their stakeholders, covering governance and policies, risk and opportunity management, environmental objectives, strategies and scenario analysis. . Among them, the Climate Change Questionnaire aims to enhance companies' awareness and management of greenhouse gas emissions, and mitigate climate change risks through measurement and disclosure. It is currently the questionnaire with the largest number of responses.。
Leverage can provide relevant guidance for enterprises, collect the status quo of enterprise energy and carbon management, help enterprises complete the CDP questionnaire, and help enterprises achieve better ratings.
ESG report preparation and rating upgrade
ESG is an acronym for the three English words Environmental, Social and Governance, which represent a series of environmental, social and corporate governance factors related to business operations. These factors are often referred to as ESG issues. In recent years, the number of companies that disclose ESG information has increased year by year, and more and more listed companies have gradually begun to strengthen ESG-related management investment and improve ESG performance and information disclosure. Good ESG information disclosure and ESG investment will help promote the coordinated development of economy, society and environment.
Leverage can consult and coach part or the whole process according to your enterprise's actual situation and resources, provide constructive advice or in-depth details, and provide project planning, content writing and rating upgrade.
Compliance Management System Certification
On April 13, 2021, the international standard ISO 37301:2021 Compliance Management System Requirements and Use Guide was officially released and implemented. ISO37301 stipulates the requirements for organizations to establish, operate, maintain and improve the compliance management system, and provides a guide to use, providing a systematic method for all kinds of organizations to improve their compliance management ability, and is applicable to organizations of any type, size, nature and industry worldwide. The PDCA concept adopted by this standard completely covers the whole process of establishing, operating, maintaining and improving the compliance management system. Based on the principle of compliance governance, it provides a complete set of solutions for organizations to establish and operate the compliance management system and spread a positive compliance culture.
Leverage cooperates with the Shanghai Corporate Compliance Research Center and several standard drafters. At the same time, On behalf of Leverage, Mr. Qu Weifeng, as one of the drafters of the "Professional Skills Standards for Corporate Compliance Professionals", is committed to improving the compliance management system of enterprises and helping enterprises identify the process of operation. potential risks and enhance the core competitiveness of enterprises.
Leverage is a clean and transparent third-party supply chain management service company. Leverage is a member of CNCA-R-2020-707, CNAS IB0605 and CCCA. It is also a member of several international organizations, such as UNGC and AWS. Leverage has been providing customers with all kinds of inspection, testing, certification and accreditation services. We hope to help enterprises achieve their sustainable development goals through our high-quality service, but also promote our country to reach peak carbon and carbon neutralization goal as soon as possible.
ISO Management System Certification | Service Certification | Product Certification | Product Inspection and Testing Service | Enterprise ESG Strategy Consulting | ESG Report Preparation | OCI Marine Plastic Recycling Certification | Carbon Verificaion for Enterprises | Carbon Footprint Verificaion for Product | Carbon Neutrality Project Customization
If you want to know more information, please contact us:
■ Shanghai :
Leverage Limited (Shanghai) Co., Ltd.
Address: Room 402, No 2. Building, No .1328, Hengnan Rd, Shanghai, China
Phone: + 86 21 64067720
Email: cs@leveragelimited.com

■ Hongkong :
Leverage Global Limited
Address: Room 1318-19, Hollywood Plaza, 610 Nathan Road, Mongkok, Kowloon, Hong Kong
Phone: + 852 9045 0526
Email: info@leveragelimited.com