Recently, the International Labor Organization released "Multiple Crisis Threats to the Recovery of the Global Labor Market". Although the impact of the epidemic in most countries has been greatly reduced, multiple economic crises and the ongoing conflict between Russia and Ukraine are also threatening labor markets around the world. recovery. The report analyzes the latest developments in the labor market, reveals the impact of regional conflicts on the international scale on the labor market, and also provides ways to deal with the crisis for business reference.
Recent developments in the labor market
From pandemic crisis to multiple crises
Although many countries have now lifted the restrictions caused by the epidemic, there are still significant differences in the development of labor market trends between countries. Employment has picked up in most advanced economies, mostly at or above pre-crisis levels, and many business owners are struggling with labor shortages. Because in addition to the epidemic, there are a series of multiple crises that are affecting the labor market, including:
1) Inflation (especially food and energy), real wages and inequality;
2) The policy space of developing countries shrinks and debts increase;
3) In 2022 and 2023, economic growth will slow down (3.2% and 2.7% respectively) and aggregate demand will decline. The slowdown in economic growth will also affect the market demand for labor to a certain extent.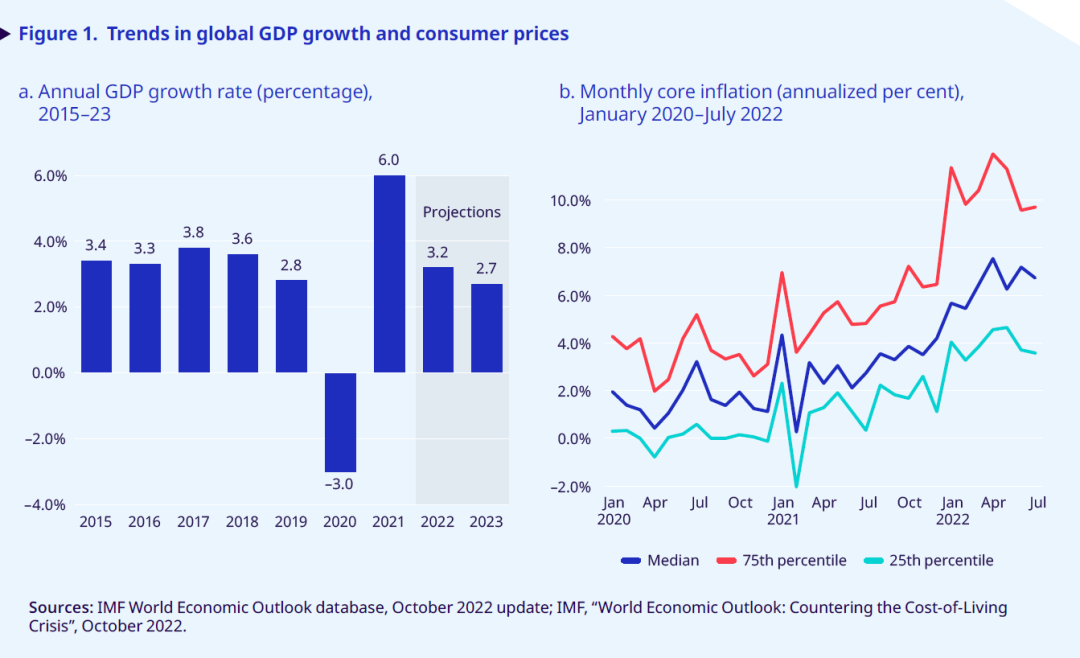 The influence of multiple crises has a great impact on the development of enterprises, especially small and micro enterprises. Rising energy and other input prices have increased business costs, while high interest rates have reduced business investment and increased corporate debt burdens, further dampening investment demand.
Exchange rate instability also adds to these costs for countries facing currency devaluations due to higher prices for imported goods. All these situations will force the economic development to face great uncertainty. Business investment is suppressed, the employment environment will naturally further deteriorate, and uncoordinated monetary and fiscal tightening will further suppress global economic growth and trade, triggering financial and exchange rate instability, especially among highly indebted countries, companies and households .
The risk of a recession in 2023 has now increased, as reflected in downward revisions to the 2022 GDP forecast.
Inequality in working hours threatened by economic slowdown
Working hours around the world recovered strongly at the start of the year as most countries lifted restrictions imposed during the pandemic. However, this solid recovery reversed in the second and third quarters, with this deterioration largely driven by two main developments:
1) The re-imposition of public health restrictions disrupts China's economic and labor market development;
2) The conflict in Ukraine and the associated energy and food price shocks add to inflationary pressures while dampening the recovery in global labor markets.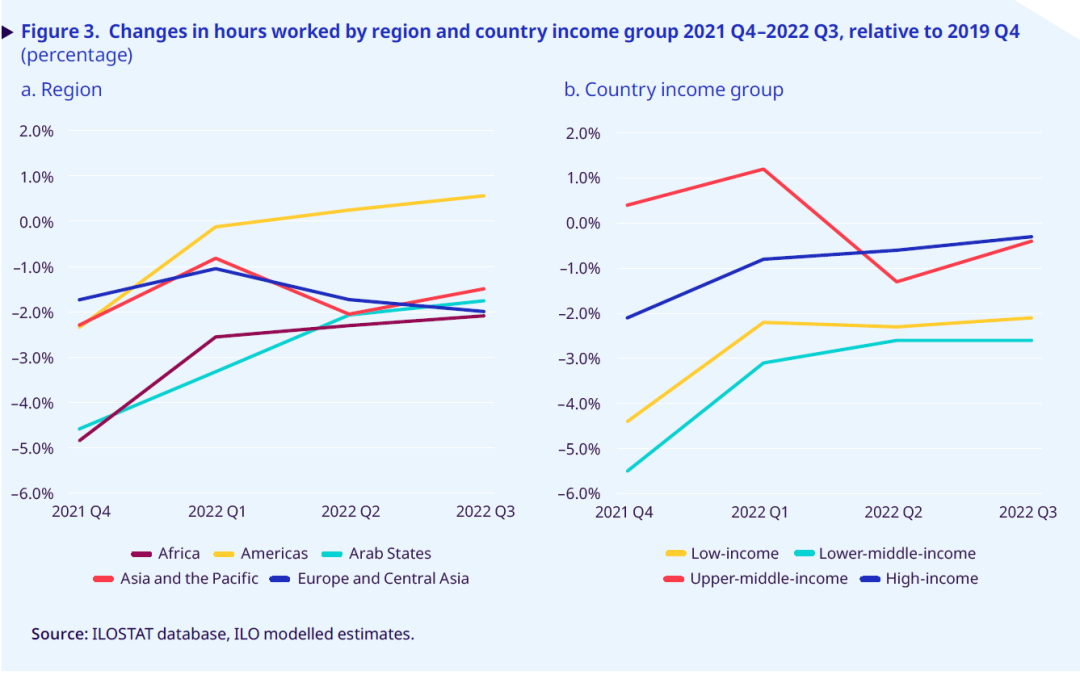 Employment differentiation continues
The persistent gap in hours worked between high-income and middle-income countries is also reflected in employment numbers. The persistent gap in hours worked between high-income and middle-income countries is also reflected in employment numbers.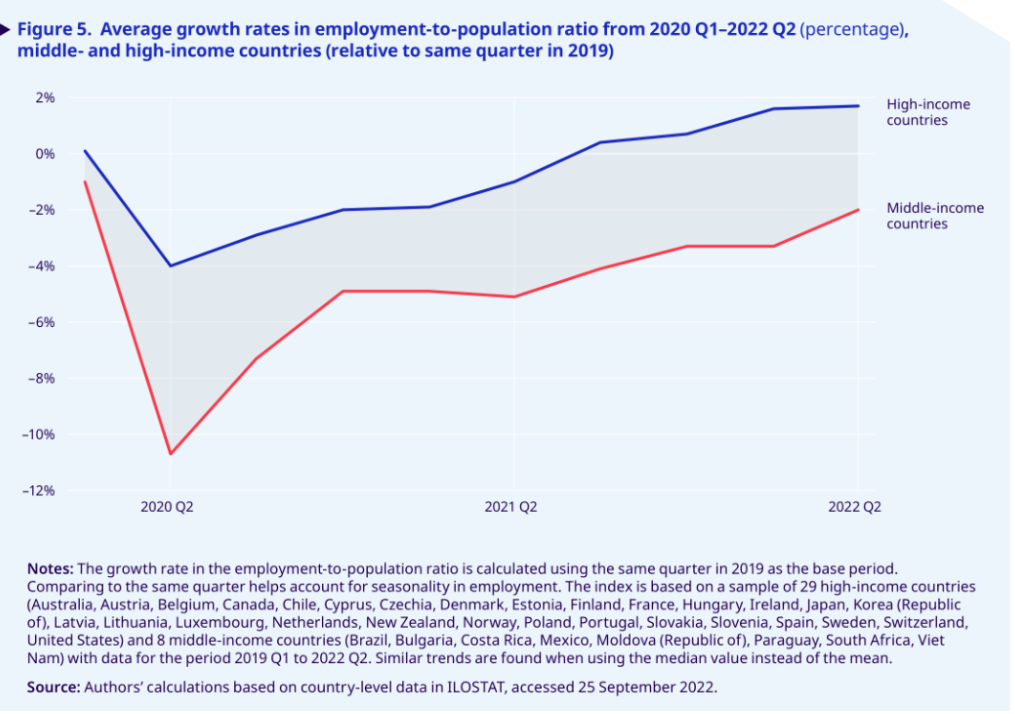 The degree of recovery has also been demonstrated in different groups of workers. By the second quarter of 2022, the number of high-skilled occupations (managers, professionals, technicians and associate professionals) exceeds pre-crisis levels.
The decline in employment of skilled agricultural, forestry and fishery workers compared with other middle-skilled occupations is in line with the apparent growth rate from 2017-19, reflecting a long-term decline in employment in this category linked to further mechanization of agriculture. Contrary to the downward trend for middle-skilled workers, employment of clerical support workers is now 3.4 percent above its level in the second quarter of 2019.
Although the number of low-skilled workers (entry-level occupations) has recovered from its low point in the second quarter of 2020, there is still a significant deficit in the second quarter of 2022 compared to the second quarter of 2019. Overall, this suggests some form of polarization, reflecting the fact that the booming industries feature mostly high-skilled employment, while the less dynamic industries employ medium - and low-skilled workers and are therefore experiencing it.
Most of the employment growth has come from the growth of informal work
After heavy losses in 2020, informal employment grew rapidly in 2021-22. From 2005 to 2019, formal employment grew faster than informal employment, with the informal employment rate gradually declining by 5 percentage points. In 2021, the trend reversed sharply, with informal employment growth fully recovering from the recession.
Labor market development faces multiple risks
The outlook for the Labour market is currently uncertain, with mounting downside risks on many fronts. Inflation is expected to remain high, which will continue to hurt workers' purchasing power and businesses, especially small businesses. Rising inflation is causing real wages to fall in many countries.
This cost-of-living crisis comes after workers and their families saw significant cuts in their total wages during the 2019 pandemic, which in many countries has had the greatest impact on low-income groups. Consumer confidence has been falling for some time as monetary policy tightens and inflation picks up; Confidence in many countries has collapsed since the Russia-Ukraine conflict, reaching its lowest point since the depths of the global financial crisis in 2008-09.
Moreover, it is well known that tighter monetary policy can have considerable effects on the economy and work activity. In addition, economic research suggests that the decline in consumer confidence has a negative impact on working hours, and all of these factors are expected to lead to a deterioration in labor market conditions, albeit with some lag.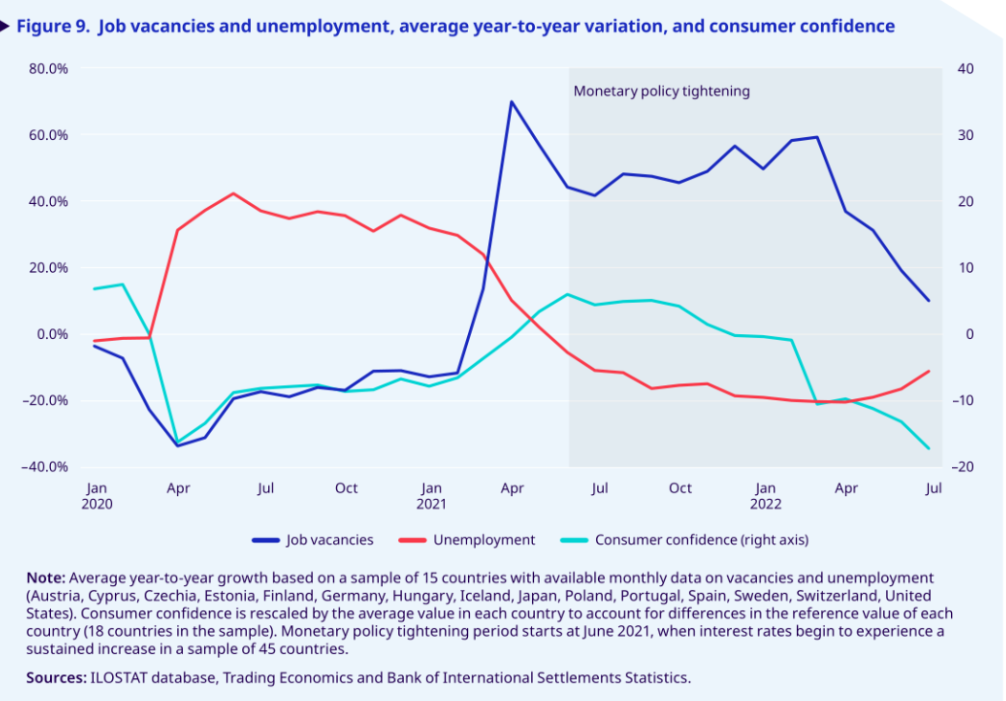 Looking Ahead: Responding to Multiple Crises
1) Careful policy choices are needed to deal with multiple crises that will have profound effects on the world of jobs.
2) Excessive policy tightening is causing undue damage to employment and incomes in both developed and developing countries.
3) A comprehensive, integrated and balanced approach is needed to combat inflation while protecting jobs and incomes.
4) The set of policy tools to address the labor market impact of multiple crises needs to be expanded through social dialogue.
5) Continued focus on decent work and social protection is needed to support labor markets affected by the conflict in Ukraine.
6) Support measures for Ukrainian refugees need to be strengthened.
7) The need for greater international solidarity
ISO Management System Certification | Service Certification | Product Certification | Product Inspection and Testing Service | Enterprise ESG Strategy Consulting | ESG Report Preparation | OCI Marine Plastic Recycling Certification | Carbon Verificaion for Enterprises | Carbon Footprint Verificaion for Product | Carbon Neutrality Project Customization
If you want to know more information, please contact us:
■ Shanghai :
Leverage Limited (Shanghai) Co., Ltd.
Address: Room 402, No 2. Building, No .1328, Hengnan Rd, Shanghai, China
Phone: + 86 21 64067720
Email: cs@leveragelimited.com

■ Hongkong :
Leverage Global Limited
Address: Room 1318-19, Hollywood Plaza, 610 Nathan Road, Mongkok, Kowloon, Hong Kong
Phone: + 852 9045 0526
Email: info@leveragelimited.com